Music Videos are back in the living room
Vevo is the world's leading music video and entertainment (CTV) platform that already attracts around 2 million unique viewers each month in the Netherlands.
Vevo is a Brand Safe music video platform which can be used by brands that are looking for the scale of TV advertising, but want the ability to reach their target audiences on a local level. All with the hottest content from the planets most influencial superstars located within Vevo's extensive video catalog.
Vevo's unique targeting
Vevo is packed with unique targeting options. Not only are brands capable of targeting on genres, artists or even demographics, they are also able to capitalize on the mindset of users. With smart tools like Vevo Moods, Vevo Premieres Media and Vevo Rewind, Vevo offers an unique targeting method to reach your audience in a Brand Safe environment.
Vevo Moods
Advertisers can use the Vevo Moods AI tool to seamlessly align their ads with music videos that convey certain moods, such as Fun, Impassioned, Empowering and Heartfelt. Vevo Moods identifies and groups content, based on those moods. This makes for very effective ad targeting as you are able to connect your brand to a very specific mindset.
A Mood For Every Occasion
With Vevo Moods, advertisers can easily target their campaigns in emotionally matching environments. Think of a playlist of loving music videos leading up to Valentine's Day or, conversely, a playlist of Christmas music during the Christmas season.
Through Vevo Moods, advertisers can make their campaigns more meaningful and impactful in the same way Vevo ensures a high-quality and Brand Safe environment. Therefore, it makes sense to create synergy between the creative ads and the mood they evoke with the music videos that surround them.
By developing new targeting tools such as Moods, Vevo continuously adds value to both artists and advertisers and enables them to achieve their respective goals through data science.
Vevo Rewind
Through Vevo's new, Prime Media rotational product, Vevo Rewind allows brands and advertisers to contextually tailor their buys to the music videos that have defined decades past.
Effective marketing tactic
Tapping into memories is an effective marketing tactic to connect with a broad audience, including older millennials and Generation X consumers, who often search for their favorite music videos from the past.
Data driven
Based on data recommendations from users, Vevo Rewind allows brands to place their campaign alongside the best Vevo music videos from a given decade. From the 1970's through 2010. In addition, with Rewind you can also target a specific genre or country.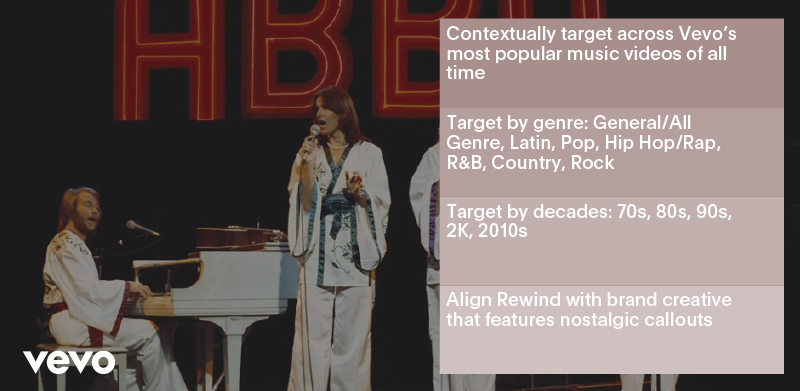 For example, to reach millennials and Generation Xers, a brand can display its ads around the 50 most-watched hip-hop music videos from the 1990's, such as videos from the Wu-Tang Clan, TLC, The Fugees and Tupac. Or, for older generations, brands can focus on 1980's pop music videos, including the classics by Whitney Houston, Michael Jackson, Lionel Richie and Pat Benatar.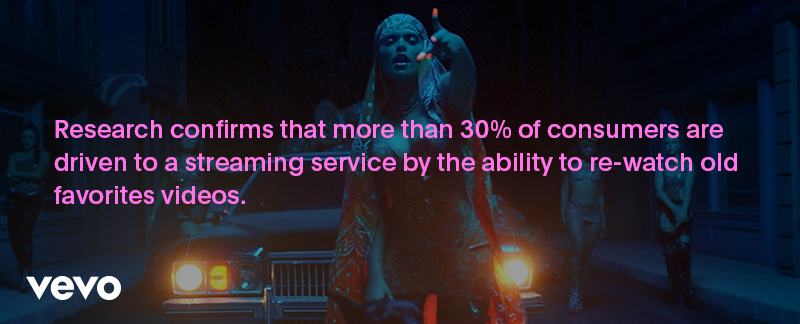 Like Vevo Moods, Vevo Rewind provides advertisers with the best music videos from a given decade, genre and/ or country, in order to target their ads to music fans that perfectly fit the target audience.
Vevo Premières Media
Last but not least, as a brand, there is the opportunity to increase your brand awareness by advertising around the most sought-after video content of a given moment!
With access to Vevo's Premium music video premieres, brands and advertisers are able to gain maximum exposure around Vevo's video premieres for a short period of time.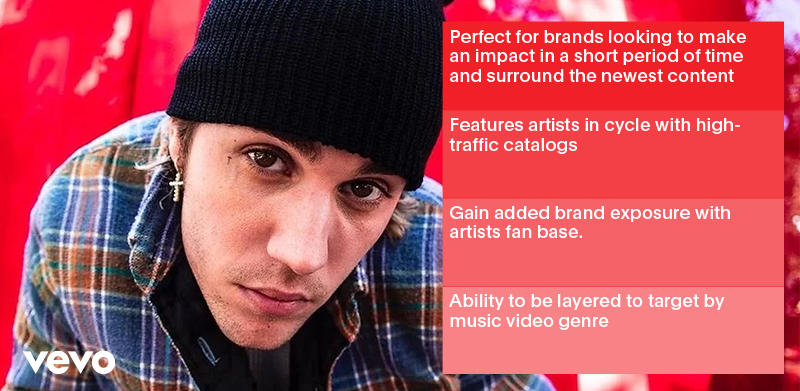 Music video premières contain record breaking and viral content that for a short period of time are amongst the most searched content online. An unique opportunity for an advertiser to hitch a ride on a global hype!
Advertising on Vevo CTV? WebAds would be happy to tell you more about it!
We can imagine that you are interested in the possibilities of the Vevo platform. Especially now that Vevo CTV (Connected Television) is also available in the Netherlands, France, Germany and Spain.
At WebAds, brands, advertisers and media agencies can from now on reserve their advertising space.
The CTV market is growing rapidly, as is the demand for premium advertising opportunities in that area. Do you want to learn about Vevo's unique targeting options in your local market? Contact us now and we'll tell you all about it!
Yes, I want to receive the WebAds newsletter!
http://www.webads.nl/wp-content/uploads/2016/10/logowp.png
0
0
admin
http://www.webads.nl/wp-content/uploads/2016/10/logowp.png
admin
2022-10-18 15:09:29
2022-10-18 15:34:26
Effectively connect with audiences: Vevo's Unique Targeting Capabilities